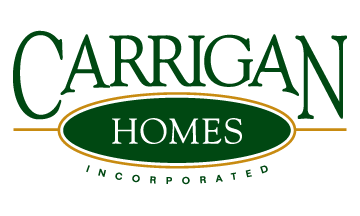 What our clients have to say...


From our first meeting in your home, we knew Carrigan Homes was the right builder for us!  We were treated with dignity, respect and kindness.  Your suggestions and recommendations were of great assistance to us as we moved through the design and development process.  We quickly learned the value of your years of home building experience. Once completed, the truly beautiful house you built became our home.                     










Bill and Colleen P.
Thank you for patiently guiding two inexperienced and unknowing landowners through the building process.  Thank you for your hard work and integrity in building our home.  Most of all, than you for being the kind of people that we knew we could trust completely with our future and the future of our children.













Brian and Jenny C.
We would like to thank you for building our wonderful dream home and making it a pleasurable experience.  From planning to implementation you have been knowledgeable, professional and friendly.  The advice you offered helped to make what might have been ordinary develop into extraordinary....we love our home!













Keven and Donna G
Thank you for building our beautiful new home !  We couldn't be more pleased, and wanted to let you know how much we have enjoyed working with you.  We wanted to deal with real people--not a corporate entity--who could listen to our ideas and needs, then offer suggestions and solutions.  As it turned out, we certainly made the right choice with Carrigan








Shawn and Jennine D.
We would like to tell you that it has been an enjoyable experience both during the process of building our home and living in it.  From modifying the floor plan to joggling the light fixtures, we made so many changes during construction.  You were always flexible and reasonable.  The more we learn from other people's experiences, the more we realize how lucky we were to have chosen a builder with principle and integrity.













Cedric and Ying Y.
















This was actually our third custom built home that we tackled over the past 15 years.  Without a doubt, it was the best experience...the single biggest challenge you met was finishing on time.  As you know we set a very tough goal for the crew of Carrigan Homes, as the snow, rain and mud fought against you.  We can't thank you enough for meeting our delivery date and getting us out of that apartment!













Doug and Jean P.